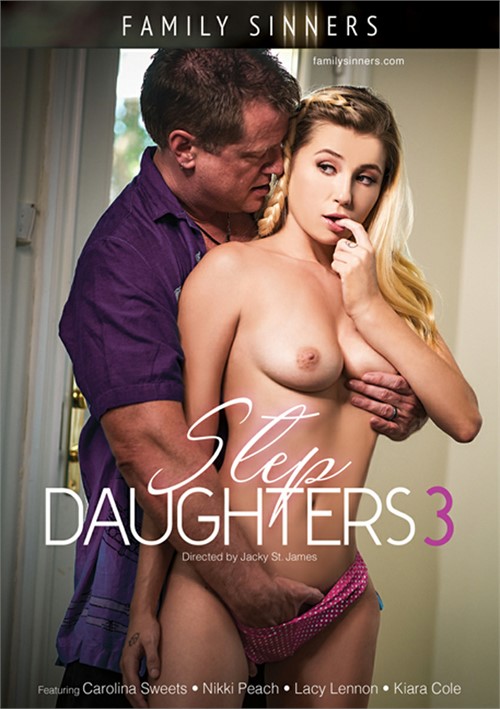 Step Daughters 3
Synopsis
Lacy's had a thing for her new stepfather, Tommy for months, but out of respect to her mother, she's kept her distance. Focusing her sights on a guy her own age, Lacy puts on her sluttiest outfit and heads out for a date — that is, until Tommy stops her. Annoyed that she, once again, is going against her mother's grounding and now also dressing like she's "asking for it" Lacy obliges by taking off the outfit he so objects to – surprising him with her boldness. Although he wants to resist, he can't. His stunning stepdaughter IS asking for it…and she needs his rock hard cock inside her now. And so, Tommy gives her exactly what he knows she wants, a good, hard, enthusiastic fucking.
Carolina's mother wants nothing more than for her to bond with her new stepfather, Eric and so she plans a weekend getaway for the two of them. Much to Eric's surprise, the room the mother booked online only has ONE bed and it's too late to find another place to stay. Determined NOT to misbehave Eric puts up a front – a front that quickly crumbles when sexy Carolina asks him to spread suntan lotion all over her body. His cock is instantly hard and before he realizes it the two are slammed down on the bed fucking each other's brains out. He's never had such a good or younger fuck but he's glad for now he'll be able to indulge whenever he wants.
Kiara wants a tattoo badly. She also wants her new stepdad, Marcus. After her friend bets her that Marcus would willingly give her a free tattoo if she sucked his dick Kiara takes up the challenge. However, when Marcus rejects the offer she's more than embarrassed. Little does she know, Marcus just wanted to have her all to himself and to make sure that she's willing to keep a little fuck and suck their secret. When Kiara agrees, she's down on her knees giving him everything he wanted—and in turn, he gives her what she's wanted (no, not a tattoo – but rather his rock hard cock). He plunges inside her wet hole and fucks her within an inch of her life. She cums over and over again and then begs for his hot load, which he is more than happy to unload all over her.
Ryan is frustrated by his new stepdaughter's lack of concern over spending money. Whether it's running up the electric bill or taking two hour showers, she's pushed him to his breaking point. When he confronts her after one of these historic showers one afternoon he gets more than he bargained for when she drops her towel revealing her completely naked, tight little body to him. Suddenly he forgets exactly why he's mad at her as he pulls her into him and licks her sweet little cunt. He throws her down onto the bed, laps at her cunt, and indulges in the best sex he's enjoyed in years. Before long, he's exploding his load all over her creamy white skin.