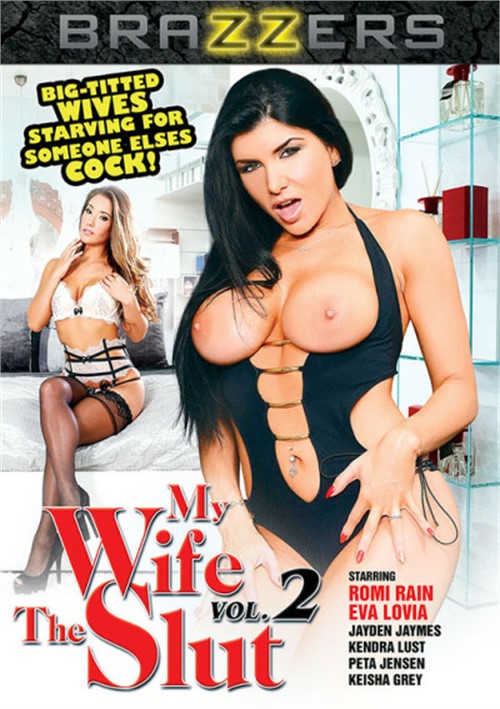 My Wife The Slut Vol. 2
Synopsis
Lost On Vacation San Diego Part Two: With breakfast frying on the stove, Brick Danger fled from his nagging wife to kiss up his new lover Romi Rain in bed. With her husband shaving just feet away in the bathroom, Romi teased Brick with a deep, messy blowjob, then jumped on top reverse cowgirl and rode his rod as long as she could without getting caught. Then on the stairs overlooking Brick's wife, Romi jacked him off until he popped a big nut right into her hungry mouth. Later that day, they fooled around in the surf and went snorkeling, and could barely wait to race back to the cabin and fuck upstairs in Romi's empty bed. Watch the intense ass-eating, pussy-pounding, anal fingering sex that went down in this passionate cheating wife scene!
No Husbands Allowed: What a trooper Eva's husband is for coming out to her class reunion. Too bad she's got her mind on a past flame. Keiran bumps into the couple, stirring up all sorts of long settled emotions. After Eva ditches her husband, she can't help but sneak into the bathroom to see if Keiran's dick feels just as good pounded her as it did years ago. It doesn't take long before Keiran is fucking her against the bathroom wall ? talk about a fucking reunion!
Jayden's Revenge : You don't want to fuck with a tough chick like Jayden Jaymes. But what's lead the happily married busty beauty to such extremes? An hour earlier, she was one on one with her loving husband, taking his thick cock deep in her pretty plump lips and perfect little pink pussy. She was sucking and stroking, titty fucking his hard cock until her pussy was dripping wet. She took Johnny's dick, cumming hard all over that cock and then taking a big facial cumshot with a smile! So what went wrong? Watch and find out!
My Two Wives: You might not think two women could share the same husband and be happy with alternating nights getting fucked. But what happens when one of these horny wives gets thirsty for a piece of Johnny's cock but it's not her sex day? If you're Jensen, then you just pull your man aside and grind up on that dick, even if it means starting up a little cat-fight with the other wife. Since Kendra Lust wasn't willing to give up an inch, both lusty ladies started competing to smooch the bone. Good thing Johnny was there to remind both of his horny housewives that he has enough penis to keep them both happy, and let them work out their sexual frustration in a hot and heavy threesome!
Trying On My Sister's Husband: Keisha Grey likes to keep it in the family, so when she finds out that her sister's husband Xander Corvus has a big cock, she knows she has to get a piece! To set up her seduction, she gets Xander alone and starts trying on some of the sexy lingerie that he bought her sister. Xander does his best to stay loyal, but coming face to face with Keisha Grey's incredible all-natural curves would melt the resolve of any man, and pretty soon she's on her knees sucking his cock! Keisha rides that big dick hard, working her hips all the way to an orgasm and a nice cumshot all over her beautiful pussy!
Lost On Vacation San Diego Part One: Romi Rain and her man were on vacation with another couple, right away it was clear there was trouble in paradise. Romi found the intense sexual passion she craved in Brick's arms, and talked him into joining her to check out the sun setting over the beach. Once they enjoyed the moment together, Romi had to explore her desire and get her mouth on his fat cock right there in the open. With no worries about being caught fucking outdoors, Romi sucked him off, and then headed off to the rocks for naughty, scandalous public sex on the beach.