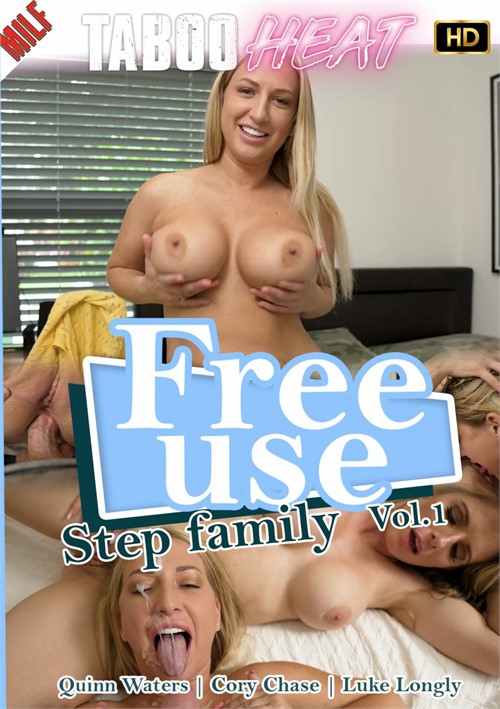 Quinn Waters in Free Use Step Family Vol. 1
Synopsis
My step-mom, Cory, is wearing a red dress as she walks towards the front door. She opens the door and finds her step-sister, Quinn, standing outside with a suitcase. Cory is so happy to see her! She invites her inside, and then Cory breaks the bad news to her. She tells her that Im home from college this weekend, so shes going to have to share a bed with me, her step-son. Cory notices that her step-sisters nipples are poking out through her white dress! Quinn tries to ignore the comment, so Cory quickly shows her to her bedroom. I walk into the room a few minutes later and I ask Quinn if shes Corys step-sister, since Ive never met her before. She tells me that she is my step-moms sister, and that she will be sharing a room and a bed with me this weekend. Quinn stands up and she pulls her big tits out from under her dress! Whoa! She confesses to me that shes really horny and shed love it if I could help her out. She lifts up her dress to expose her pussy to me next, since she doesnt have any panties underneath her dress. Quinn gets completely naked and my cock starts to get hard. Quinn pulls my hard cock out and she starts to give me a blowjob. Then she lies down on the bed in the missionary position and I start to fuck her tight pussy. After a few minutes, I decide that I want to try fucking her ass. Her ass is really tight, but I eventually get my cock all the way in there! I keep fucking her ass until I cum inside of her ass hole. Then I ran off to go take a shower
Quinn is sitting on our living room couch, and she is completely naked! My step-mom, Cory, asks her if she could please put some clothes on. Cory feels uncomfortable having her step-sister walk around naked in the same house that her step-son is living in. Quinn doesnt seem to care though, and Cory has to rush off to work. I walk into the living room after I hear my step-mom leave for work. Quinn is really horny and she immediately grabs for my cock! She starts to give me a blowjob until I get nice and hard. Then I fuck her pussy in the doggystyle position followed by the missionary position. I keep fucking my step-aunts tight pussy until I cum inside of her!
Cory is wearing bright blue lingerie and her step-sister, Quinn, is wearing red lingerie as they sit next to each other in bed. Quinn confesses to her step-sister that she has a new, high paying job; She is now an escort for rich men. Quinn tells Cory that she has a client who offered her a large sum of money if she could bring another woman with her; Quinn tries to convince Cory, who isnt too sure if she wants to do this. Quinn tells her step-sister that they could practice having a threesome with me, since Im Corys step-son. Cory looks confused, and thats when Quinn admits that she fucked me the other day and that I was a great fuck! The two MILFs end up turning each other on from this conversation, so they both strip out of their lingerie. Quinn lies down on the bed and my step-mom, Cory, starts to lick and suck on her clit. Cory licks Quinns pussy and she eats her ass out too! After Quinn cums, the two MILFs switch places and Quinn goes down on Cory. Thats when they decided to call me into the bedroom…
I hear my step-mom calling my name Luke from her bedroom. Im not sure why shes calling out my name, but I put down my video games and I run to see what my step-mom wants. When I open the door to her bedroom, I find my step-mom completely naked with Quinn eating her pussy out. Whoa! What did I just walk into?! It doesnt take long for them to convince me to join them and have a threesome! They both start to suck my hard cock at the same time, before I start to fuck my step-moms pussy first. After a few minutes, I fuck Quinns pussy while Quinn eats Corys pussy out at the same time. I fuck Corys pussy in the doggystyle position next, before I go back to fucking Quinn. I just love fucking my step-mom and my step-aunt back and forth! When I get close to cumming, I jerk my cock off all over Quinns face and in her mouth. I sure hope we do that again sometime!